When Charlie broke the silence
Charlie Eriksson was suffering from mental illness, but didn't dare to tell anyone. But after having been cared for in a respirator, close to dying because of his last attempt at suicide, he could no longer keep his mental illness a secret. He wanted to tell his story and share his experiences. It was the start of Never Alone. Below, you can read Charlie's own words about his time of illness.
CHARLIE ERIKSSON
I was born at the Varberg hospital on July 31, 1991. Since then, my life journey has had several stops. I was a pretty lively child, perhaps not always that easy for my parents to handle. I ran away from home several times in order to discover my surroundings. It was exciting to see new things. In addition to that, I liked to do business. Everything was for sale. I sold fruit, berries, juices and golf balls outside our home, to mention some of the goods that sold the best. When I was around seven years old, I began to take an interest in sports and I played both soccer and floorball. My school years were quite uneventful. There were no major disasters. In high school, I attended the social science track with focus on economics. I graduated with good grades; my level of ambition has always been high.

On November 4, 2007, something happened that came to deeply affect my life. A good friend collapsed during floorball training and his life couldn't be saved. He was just 16 years old. I'll never forget when we were told that he was no longer with us. It's been several years since it happened, but even today I think about how much joy he spread around him.

My friend's passing made me realize how fragile life is. That what we take for granted can be gone in a split second. In school, we formed strong bonds of friendship and helped each other get through the grief. Not a day went by when I didn't think about my friend's death. How unfair it felt and what a vacuum he left behind. For my own part, I wanted to live both for him and for me. He never got the chance to become an adult; now I would live for the both of us, was my idea.

In the summer of 2010, I went to Australia with two former classmates. The idea was that we would travel around and work for a year. But it ended with me having a month's holiday and then I went home again while my friends stayed on. I was often like that. Unpredictable, restless and spontaneous. When I got back home I started dating a girl, we became a couple and life began to feel really stable. We liked each other a lot and had fun together.

My girlfriend lived in Gothenburg and there were always things going on there. We visited amusement parks, strolled around in shops and did other things that were not possible or far from as exciting to do in my home town. Things were great with my new love and my newfound friends in Gothenburg.

The year after the adventure in Australia, I also made several trips. In June, my girlfriend and I visited Corfu in Greece, in November I went alone on a last minute trip to Thailand for two weeks and immediately when I got home I packed my bags and traveled with my girlfriend to Egypt for a week with sun, beach and unwarranted salespeople.

But in January 2012, I stepped into the adult world. Now, I was accepted to Linnaeus University in Kalmar and my first apartment contract had been signed. I was named this year's "zero" at the introduction and immediately put my name on the map in Kalmar. Being named this year's "zero" was a certificate that I was considered to be one of the nicest and most sociable new students, something that opened doors in my new city. I quickly connected with influential people in Kalmar and got a flying start in student life. My girlfriend was in Gothenburg and our relationship fizzled out; in February, we decided to break up. But that summer, we met again and rekindled our relationship. However, the fire only burned until September and we broke up again.

Life as a student consisted of constant partying and as little studying as possible. I spent a lot of time with my friends. In September that same year, I got a job as a student ambassador for Samsung. The job meant that I was sponsored with products for me and a fellow student running a Facebook page with various campaigns and competitions. It was a lot of fun and felt like an opportunity to get a foot in the door with the huge company, Samsung.

Maximum performance has always been my goal; you can ALWAYS become the best! But my high demands on myself combined with all the stress due to studying, work, exercise and being there as a friend led me straight into a depression. A depression that I initially refused to accept and which almost ended up costing me my life. Not just once, but several times.
Expectations for the year 2013
A common update in social media such as Facebook, Instagram and Twitter when it's about to be a new year is "new year, new opportunities". An update that reflects a lot of what the New Year is about: a chance to start over, an opportunity to change something that doesn't match your life goals. For my part, the start of 2013 meant a number of New Year's resolutions about what that year would bring. On New Year's Day, I wrote the following on my iPad:
• Eat a more varied diet and exercise more
• Start my own business
• Take care of my friends
• Climb White & White Event / Samsung
• Improve my GPA
• Improve my English in both speech and writing
These New Year's resolutions may not look much to the world, but they meant quite an endeavor for me. Eating a varied diet was difficult, because I'm very picky. Working out wasn't a new thing; ever since childhood I'd been active in several team sports, especially floorball and soccer. Starting my own business had long been a dream; it would be amazing to feel like I had contributed something. But without a clear idea of what I wanted to do, it became mostly a thought that was eating away at me, a kind of pressure to come up with something revolutionary. Taking care of my friends and appreciating the people around me seemed perhaps a bit self-evident, but it felt important to tell them how much they meant to me – before it was too late. The career opportunities at Samsung seemed endless, and at the beginning of the year, I definitely saw it as a possibility to take a first step upwards in their organization. My GPA, after three semesters at the university, was high. But I wasn't happy; you can always do better. My English had concerned me for a long time, my pronunciation was awful and my spelling useless; this was something that I definitely had to improve on.
In other words, I put a lot of pressure on myself at the turn of the year. There was a lot I wanted to achieve in the coming year.
Spring 2013
Spring is a good time. After the long, cold and gray Swedish winter, it's time for nature to brighten up life with green foliage and colorful flowers. The sun is no longer a rare feature, it's come to stay for months and it'll give us all a much needed dose of vitamin D.

At the end of the year, 63,671 people lived in Kalmar municipality, which was considered a relatively small community. But ever since I moved to Kalmar I had appreciated this little coastal town. For a year and a half I lived in an apartment that was on idyllic Stensö Island, a stone's throw from attractions such as the Kalmar Castle and Långviken with its cozy harbor environment and great swimming.

A common sight on Stensö Road, the street that leads into the center, were all the dedicated joggers who had come to enjoy the popular exercise trail on Stensö. This daily sight always made me feel a bit guilty, a feeling that I was lazy who basically lived next door to the exercise trail but rarely used it. Instead, I preferred the evenings, to let the darkness fall, light some candles and watch a movie or listen to music. I've always been like that. I enjoy the simple things in everyday life, things that can create a cozy atmosphere.

This spring started in the same way as the year before. The tempo was high in school, I felt like the exams just kept coming one after another. My strategy was to try to be free for the longest possible time and then study intensively the last week to hopefully make the exam and possibly – with lots of luck – get an A. This strategy wasn't new; I had used that method since I started college in January 2012.

Being a student had its advantages; every day was like a blank paper that I could fill with exactly what I wanted. There were rarely compulsory school tasks that prevented me from creating my own daily agenda.
In my class, the majority were girls, but I mostly hung out with the guys. We were a happy bunch of about ten bachelors who all loved the good things in life. Together, we studied for upcoming exams, worked out at the gym to get in shape for the summer, and went out into the Kalmar nightlife.

Despite these great people around me, I felt how my scholarly ambitions started plummeting. The spring had started out well, but my results dropped without me doing anything about it. I had found out that I had been accepted to study in Nice in France, the place of my dreams. Therefore, my grades no longer felt as important and I spent less and less energy on studying. This was nothing that weighed me down; I felt that there was a logical explanation for my lack of motivation, since I'd been accepted to the study abroad program.
Episode 1 – 112
The sound of a guitar solo was heard clearly, was I on stage like a rock star or where did the sound come from? A few seconds later I woke up in my nice, warm bed and realized that the sound was coming from the alarm clock. It was seven in the morning and the apartment was bathing in sunlight. I appreciated the morning sun. It was easier to get up when it was sunny in my room. The warm water rays in the shower made me feel excited and I felt ready to meet the day. Today's agenda was set; first I was going to school, then study for a few hours at the university library and afterwards the day would be wrapped up with a bar crawl with some of my classmates.

With a hearty breakfast in my belly, I locked the apartment and went to my awful bike that was parked just outside the building, removed the unlocked bike lock and started pedaling towards Kalmar Nyckel and the Economics department — about a fifteen-minute bike ride. Nothing sensational happened at school — it was a day like any other.

After a few hours of studying it was finally time to head home and start preparing for the evening's festivities. "Don't You Worry Child" with the Swedish DJ trio Swedish House Mafia blared from the speakers and I danced around in my boxers before I was going to take a much needed shower. The party bag for the evening consisted of six bottles of hard wild berry cider (7.0 %) and just over 30 cl imported vodka of unknown brand. The outfit for the evening: A freshly ironed light blue Ralph Lauren shirt, a pair of hemmed-up dark blue jeans and a pair of turquoise low-rise Chuck Taylors. The combination of the party bag and my outfit, as well as a freshly showered body that smelled of Armani Code couldn't lead to anything but success, I thought when I locked my apartment door. The evening was getting started.

I felt tears flowing down my cheeks, how I was starting to pant and how the world around started shrinking. I was sitting all alone on a bench in downtown Kalmar and cried in a way I had never done before. A feeling of anxiety rolled over me like a wave and I didn't know where to go or what to do to stop this extreme experience. There were people around me and for that reason, I chose to walk away. I got on my bike and headed towards the port by Kalmarsalen. There was nobody there. It was a place where I could let my feelings out. What was happening? I thought over and over and over again. I took my phone and dialed the forbidden number, the three numbers that you're only supposed to use in a real emergency. 112. As soon as I heard the first signal go through, I felt extremely guilty — why did I call 112 when I wasn't really in an emergency? Was it illegal?

This is my version of the conversation as I remember it:

An unknown woman's voice: "Emergency dispatch, you're talking to Eva, what's happened?"

I became completely stiff and burst into tears.
"I need help!" I said in a weak, dejected voice, full of tears.
"What did you say your name was?" Eva asked with a clear voice.
"Charlie Eriksson. I have to talk to somebody," I replied, my voice still faint.
"Charlie, where are you?"
"I'm down by the sea, by Kalmarsalen… I really need help."
"Have you been drinking? What are you doing by the sea? Please calm down!"
"I'm drunk, but I need help NOW! I like the sea!" I felt how I was getting angry.
"I hear that you're drunk, but how can we help you?"
"Send someone who can pick me up, I have to talk to someone. I don't feel good."
"I think you should contact the psychiatric emergency department at the hospital."
"I need help NOW, can you send an ambulance or a cop here to pick me up and drive me to the hospital?" Now I felt that I was being treated rudely. I got angry and cocky.
"Unfortunately, I can't help you. I suggest you call a taxi that can drive you to the emergency room," Eva said with a cold and insensitive tone.
"I'm not gonna call no fucking taxi, can you send someone here to pick me up. I need help, I need someone to talk to NOW!"
"Now, let's do this. You're significantly intoxicated and I consider it most suitable that you call for a taxi that can drive you to the psychiatric emergency room. I can't do more than that right now."
"Then fuck it. If you can't help me, fuck it, you bitch. I'll never call this fucking number again since you can't help me anyway!"
"Charlie, don't do anything stupid!"
"Fuck you, bye!"

I hung up, placed the phone on the ground and ran down to the edge of the dock. First, I wanted to jump into the cold gray water to end my anxiety. But instead I settled for sitting down by the edge and stare at the waves hitting the dock. There was complete silence inside me.
Episode 2 – The Hospital
Saturday started with a really good breakfast. The alcohol from the evening before was still in my body and I felt generally slow. This day would be a day to relax. After a few hours on the couch with various movies, it was time to start preparing for another night out with the guys. I had the party playlist going on Spotify, and slowly but surely, I was getting ready for another night out. I danced around when I was cooking and cleaning up, I was in a good mood and I was looking forward to the evening's activities. As usual, I took a long hot shower and drenched my body in masculine scents. This evening's party bag was even more cranked up: there were now eight bottles of hard cider and about 40 centiliters of vodka — more than enough for a nice buzz.
Boom, boom, boom, boom… the bass was pounding between the walls at the infamous Tullslätten. After several different drinking games, finished drinks and cigarette-puffing on the balcony, we rolled down to Kröger's patio which was packed with party people as usual. The alcohol was flowing, and mainly it was bottles of rosé that were ordered in, it was really something special to sit on a patio in the warm spring evening, drink a glass of rosé, light a cigarette and take some puffs in good company — a bit of a magical moment. At Krögers, the opportunities for dancing were minimal, so parts of our crew headed down to Vallen, which had a younger clientele and lots of dancing. This evening, there were lots of familiar faces and it was a really nice atmosphere. At Vallen, the sequence was first the bar, then the dance floor, then the bathroom, pretty much without any deviations. In other words – it was an ordinary night out.
When it was about to be 1.30 am, I started to feel that I'd had too much to drink. I was definitely intoxicated. It was about time that I headed home. I got my coat from the coat check and went outside to try and find my bike among the parking chaos outside. The journey home was unsteady and foggy; I probably violated most traffic laws. I don't really remember which way I rode, but at least I came home.
I unlocked the door and went into the apartment. The feeling from last night started sneaking up on me; there was a strong sense of anxiety and worry. A few minutes passed, then the anxiety was so strong that I couldn't put it into words. What happened? What was I supposed to do? My head was buzzing, and my first impulse was to call for help. But it hadn't worked the night before. I drained two or three bottles of cider in order to try to suppress the ongoing anxiety attack. Nothing happened, except that the anxiety grew stronger. I felt how I started panting. I acted without thinking — in a few minutes, I'd swallowed an unknown number of Tylenol pills. Something told me that this wasn't a good combination, so once again, I called the forbidden number. 112.
This is my interpretation of the conversation.
"Emergency dispatch, you're talking to (unknown), what has happened?"
"You have to help me. I've tried to kill myself." I cried and felt abandoned.
"What's your name and where are you located?"
"Charlie Eriksson. I'm at home. I don't feel good."
"Okay, Charlie. Where do you live? What have you done?"
"Bisterfeldsvägen 4. I've swallowed a lot of Tylenols and had lots of alcohol."
"Was it Bisterfeldsvägen 4? All right. That doesn't sound good. How are you feeling right now?"
"Yes! I feel nothing, but I'm hyperventilating. Should I go outside?"
"The paramedics are on their way to you, Charlie. Can you get out of the apartment and meet them?"
"Yes, I'm outside now, sitting by the roadside."
"Let's keep talking until the ambulance arrives."
I hung up and called my ex-girlfriend.
"Hello!" she answered.
"Hi, I've tried to kill myself!" I burst into tears again.
"Have you called for help?"
"The ambulance is on its way."
The call was disconnected.
I sent text messages to my three brothers and to my parents, wrote what had happened and ended with how much they meant to me and that I loved them.
Suddenly, a bright light shone straight into my eyes. The ambulance had arrived and two middle-aged men stepped out. The stretcher was rolled out and they helped me to get on it, then it was rolled into the ambulance. Inside, the light was incredibly bright and I felt a strong sense of dread. The paramedic was asking me questions in a rapid sequence and I answered as best I could. The drive to the hospital took about five minutes and the ambulance drove straight into the emergency bay. My phone rang and the nurse asked me to answer the call. It was the police. My ex-girlfriend had hung up when we'd talked and she'd immediately contacted the police to get me help. But I had received help and the police trusted my words and the conversation ended.
When the back door opened, a paramedic and two people in white coats were waiting. They moved me to another stretcher and drove me to a corner where I was taken care of by two other people in white coats. I was conscious the whole time and squeezed the phone hard in my hand. I remember wondering why none of my family members answered my text messages or calls. I felt totally alone and abandoned.
After an hour or so, I began to realize the seriousness of the situation. I was lying on a stretcher in the emergency room, with stuff in my arms and drinking carbon to neutralize the medicine. My breathing was getting heavy, the white-clad woman who supervised me asked questions that I could no longer answer. I struggled to breathe. My body began to shake, my eyelids shut and my only thought was that now I'm going to die.
"He's having a panic attack!"
A woman's voice woke me up. What had happened? I felt that my legs were still shaking but the breathing had returned to normal. When I got eye contact with the white-clad woman, she suddenly stopped talking to her colleague — obviously, I wasn't supposed to listen in on their conversation. I asked about my status and what would happen to my body since I had ingested such large amounts of Tylenol and alcohol. The answer was straight and honest.
"Either your liver has been damaged and then you have very small chances of survival, or it hasn't been damaged and then you'll be all right. We don't know more until we get the toxicology report."
The feeling that struck me when the words penetrated into my consciousness was indescribable. Was I lying here waiting to die? I didn't feel very sick, but now I know that it was probably because the alcohol suppressed most things in my body.
"We'll keep you overnight to wait for the results of the screening. You'll now be moved to a ward where you'll have your own room."
Three new people in the ubiquitous white clothes came walking towards me and politely introduced themselves before they wheeled me off through a long corridor. I closed my eyes and trusted that they knew where they were taking me. The room I arrived in was completely white and sterile — not my idea of cozy. But on the other hand, should a hospital be cozy? There was a TV and some kind of device they called a radio. I made some final attempts to get hold of a family member, but without success. They were probably sleeping and I thought it would probably be a good idea if I also got some rest. Soon, I fell asleep.
"Ouch!" I screamed loudly when I felt someone pushing a sharp object into my arm. It turned out to be some kind of needle that would stay there in case I needed IV. "What time is it?" I asked the unknown white-clad person. "About four," she replied. I fell back asleep.
In the morning, a doctor entered the room.
"Charlie?"
"Mm," I replied.
"How are you feeling?"
"I don't know… tired."
"The test results are in."
"Okay?"
"From what we can see, your liver hasn't been damaged. But we want to keep one more day for observation."
"Lucky! I'm not going anywhere."
"Rest up now, and then we'll check back in on you later," the doctor said and left.
A guitar solo started and the whole bed vibrated — what the hell was that? Oh, my phone was ringing! It was Mom. I answered with tired voice and I immediately heard how worried she was. She and Dad were in the car on their way to Kalmar. Another guitar solo was heard, this time it was one of my brothers. He and my two other brothers were also on their way to Kalmar. My family was expected to arrive within two to three hours. These hours felt like an eternity, and I tried to kill time by watching horse races on TV and having long phone calls with my parents as they were driving.
"Charlie is in room eight," I heard a woman's voice say. My brothers had arrived. It was an incredible relief to have family members by my side during this difficult time. And then, my parents showed up. Inside the room, there was tension in the air. The gravity of the situation became apparent. I needed help, and this had come out of the blue for my family.
After a talk with a psychologist, I was discharged from the hospital. The danger had passed and I was going to get in touch with a psychiatrist back home, that is, on the west coast of Sweden where I would spend the summer. Now, I had what I needed. Help.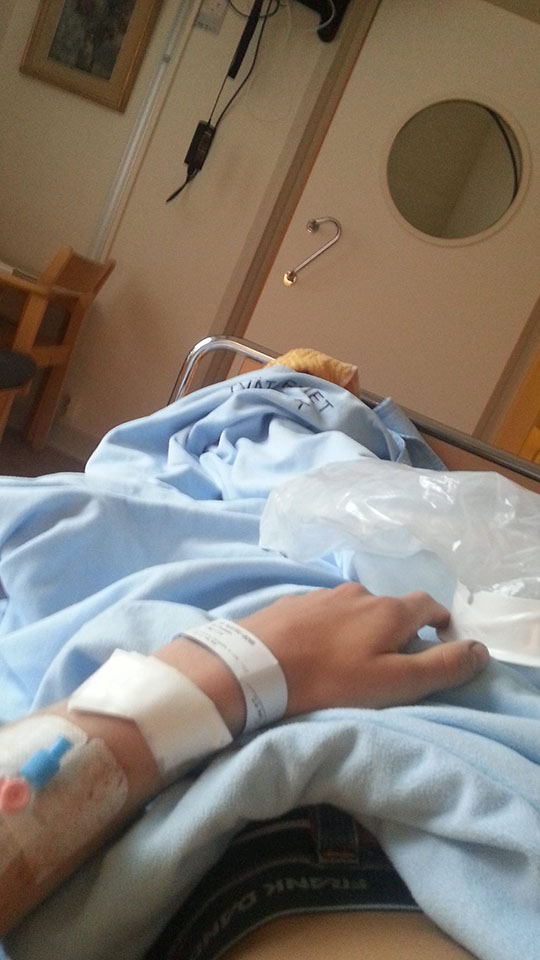 Episode 3 – Summer 2013
After a week's rest in Uppsala with my brothers, I returned to Kalmar for the first time since the hospital visit. I was going to finish and present my paper in Tourism before I was moving to the west coast and my hometown of Falkenberg.
The week went by quickly and Mom arrived in Kalmar. The apartment was to be emptied and cleaned before renting it out. We packed a storage unit, the car and left some things to those who might better need them before we could clean the place and head over to the other coast.
I was at home, the place where I had taken my first steps, learned to ride a bike, played ball, played tricks on the neighbors and actually spent my entire upbringing. Here, I felt safe. But already after half an hour, I picked up a rental car and drove up to Gothenburg to visit one of my closest friends. That weekend we were going to the Summerburst music festival, which took place at Ullevi Stadium. The expectations were sky high, but the results were mediocre. The only one who really delivered on stage was Axwell. Jaw-dropping.
After a wild weekend in Gothenburg, everyday life in Falkenberg ensued. Work, eat, sleep, work out – over and over again. I contacted the psychiatry clinic in Halmstad, which would get back to me with an appointment date and time. It took about two weeks, but then I met with a doctor and I told the physician everything that had happened in Kalmar. This formed the basis for the doctor to remit me to a suitable psychologist and make decisions about medication. I was immediately put on Sertraline, which is a medicine most people who contact the psychiatric clinic are offered. But I didn't know anything about it. I accepted the prescription. On the way home, I googled Sertraline and it was scary to see the comments people had made about this drug. Words like "everything got worse", "suicidal", "hell" and the like were over-represented among the reviews. How would I respond to it?
Everyday life went by and work went pretty well, even though the medicine had side effects, mainly in the form of severe nausea. But after a while something happened, just like the inexplicable thing that had occurred in Kalmar. It started out as a normal day. In the afternoon, I played nine holes on the golf course with one of my brothers. Then I went home. I was home alone and watched movies and smoked a few cigarettes on the balcony in the late summer evening; everything felt good. But suddenly, I felt enveloped by a strong wave of anxiety. In just a few minutes I'd gone from a completely normal state to full panic mode. The anxiety led to rapid breathing and faster heart rate and I didn't know how to handle the situation. I called Mom, who in turn called 112 and after that she contacted my brother who came and made sure that I calmed down. Then he, after having consulted with a nurse, drove me to the psychiatric emergency room at the hospital in Halmstad.
The waiting room at the psychiatric emergency room was empty; I was the only one with mental issues that Friday night. A nurse noted my presence and I blew into a breathalyzer to prove my sobriety. After a meeting with another nurse, it was decided that I would be admitted to the psychiatric intensive care unit overnight for observation and monitoring. Upon admittance, they took my measurements. I was 6 feet tall and weighed 140 pounds. The staff asked if I would eat any type of food, I replied that I was incredibly picky and not particularly fond of hospital food. They laughed and one of them said, "If he likes food? The kid is only skin and bones." The laughter lightened up the mood in the sterile environment of the examination room.
My room was at the end of the corridor and it was decorated in a contemporary style. The ward seemed to be newly built, but as always in a hospital environment, it was austere and unpleasant. I was given a cup of got a mug of liquid Theralene (a sedative) and fell asleep like a log.
Due to confidentiality, you're not allowed to bring your cell phone into the intensive care unit. You're also not allowed to take pictures. All I could do was talk to the staff and browse through various newspapers. Time went by slowly; one day felt like a week. I didn't know how long I would stay there. I had to take one day at a time.
There are many myths about the patients being cared for in psychiatric clinics in Swedish hospitals. But that the "loony bin" should be a crazy place where the most insane people end up didn't feel completely true, at least not when I was there. First of all, the patients weren't completely insane, and secondly, the staff created a very good atmosphere. Lastly, the psych ward was not as it appears in movies. There were no ghosts and nobody was killed. As patients, we watched TV, read newspapers, played cards, had a smoke in the exercise yard or rested in our rooms. But a movie that reflects the reality of the psych ward would probably not be a blockbuster. And what would the world be without all the prejudice? Without knowledge, uncertainty is created and, from uncertainty, false truths arise, that is, lies.
After four days at the clinic, I was discharged. In order not to stress and immediately jump back into work, I went with my dear father to our summer place, which is located by a lake in the forests of Småland. It's a place for peace and quiet, it's like chicken soup for the soul and helps you fully recharge. We were there from Wednesday to Saturday and it was really much needed to chill out and clear my mind in a healthy place and in safe company. When we returned home, we barbecued in the evening in the garden, the whole family was gathered except for my oldest brother who was staying in Uppsala over the summer. The week after, I made another visit to the psychiatric clinic in Halmstad. The doctor was aware of my visit to the intensive care unit and we discussed it. The result of the visit was that I was put on part-time sick leave and an increased dose of Sertraline — the doctor ordered double dose.
By reading about the reason for my sick leave, I managed to grasp my condition and I also got it in writing. According to the documents, I was suffering from a depression. My first thought was, "Well, am I depressed?" I thought a depressed person was always sad and did nothing but burrow their head down into the pillow and never get out of bed. Permanent sadness kept a depressed person at home and isolated from the outside world. But apparently, these were only beliefs that I had. I was in a depression, yet I still felt quite "normal" at times. I worked, did stuff with friends and family and tried to live a normal life. The only thing that separated me from my normal state was the fatigue that crept up on me constantly. I couldn't manage as much as I used to, but the desire to do things was still strong. The constant fatigue led to restlessness.
When the sick leave started, I worked part-time through the summer. That summer, I was working as a cashier at Shell and 7-Eleven. It felt weird to be on sick leave because of a mental illness; I didn't look sick. None of my colleagues or bosses could tell how I felt from looking at me; no customer could judge me on my exterior. Being mentally ill is really living with a pain that nobody can see. When you break your leg you get a large cast and crutches but when you're mentally ill, you get nothing. Would it be easier with a sign saying that you are actually sick? But not only was I actually sick, I also felt stupid having a mental illness because it forced me to put words on things that I myself hardly knew what it was. The consequences of this were ambiguities and many questions.
I've never felt so naked as when I was sitting face to face with my psychologist. She fired off question after question and I revealed things about myself that no one else had a clue about. A strong bond was created between me and the psychologist; I trusted her and she wanted the best for me. Each conversation lasted just over an hour and this procedure was repeated about six or seven times during the summer. After each conversation, I felt hopeful and looked bright on the future. Going to a psychologist was like cleaning yourself on the inside, processing what had been and planning for what would come. These conversations gave me many new perspectives on things in life, but medically, I don't think the conversations made miracles.
The psychologist made notes of my expectations, goals and some other things on a board. When I saw the whole board full of red color from her pen I realized that this wasn't a sustainable way to live life. The demands I had set on myself were far too high. It was no wonder that my fellow students in Kalmar sometimes joked that if they were to become ill and forced to have surgery they would rather have it done in my apartment than in the hospital, since I had a clinically clean home. The combination of high demands on myself and things I hadn't processed properly previously in life had thrown me into a depression. I'd pushed my friend's passing aside; I'd never wanted to talk about relationships that had ended; and in addition, several relatives had passed away recently. This summer wasn't like any other. The ties to my family had grown a lot stronger and I focused on retaining my closest friends. And I constantly tried to put my own health first, since, after all, I was ill. Most people answer that they're "fine" when asked how they're doing, but this has proved to be the most common white lie among us humans. In this way, I kept my illness a secret from the people who didn't know me very well. My protection was the answer: "I'm fine."
Nice, France – A Dream that Almost Came True
August 26, 2013 was a regular Monday for many people – the first day of a working week or another vacation day – but for me it was something very special. It was the day I had longed for the whole summer, a day that meant more than the other dates in the calendar. It was now my great adventure would begin! The flight to Nice departed from Copenhagen Airport at 2:20 p.m.
The alarm on my cell phone went off at 6 a.m. For the first time during the whole summer it felt like I was flying out of bed and levitating into the shower. The sun was shining and I was excited. The train from Falkenberg would leave just after 7 a.m. and my mother and I were there in good time, waiting in the glowing morning sun that lit up the platform and the tired people. The train rolled into the station and I said goodbye to my mother. It was crowded, but I managed to find a seat, which was nice considering my heavy luggage. A conductor helped me get the bag off the aisle. I plugged in my headphones, leaned back and relaxed. I was on my way to France.
At the airport, a young woman at the check-in counter greeted me in Danish. I handed her my boarding pass and passport. When I placed the bag on the scales, it showed 55 pounds, while the maximum weight allowed was 50. Without really understanding her Danish accent, I decided to pay for the overweight, it was about 100 dollars. It doesn't matter, I thought, because I'm moving to France to live the dream.
The seating in the airplane wasn't very comfy, but since I'm a pretty skinny person I found an okay position. When the aircraft had taken off and the seatbelt sign was turned off, I took out my cell phone, plugged in the headphones and pressed play. "Talkin 'Bout A Revolution" with Tracy Chapman started playing. A song that I associate with the word "journey." That's the song I would listen to when I was going to sleep in Thailand; I used to play it when I was driving; it was played frequently when I went to Gothenburg to visit my then-girlfriend and my friends, and it's been giving me strength when I've been weak. It is a song that's been with me both on physical trips and my own life journey.
The flight to Nice took just over two and a half hours. At the approach to Nice Airport, I saw the views I'd seen on the Internet, the azure blue water in contrast to the mountains. The sight filled me with a lovely feeling; this would be absolutely amazing.
When I exited to the arrivals hall, I was met by two people who represented the school I was going to study at. I was the only one who arrived that day, so we went straight to a small car where my bags barely fit and the heat was unbearable, there was no A/C. The first stop was IPAG, the university that was located in the central parts of Nice. There I met a person who was responsible for the exchange students and a woman who provided housing contacts. That same evening I was to see the first apartment, which I ended up cancelling since I was tired after the trip.
I went to the hostel I had booked for the first three nights, during the time I would shop for an apartment. It was in the old town, a very beautiful place and with an incredibly attractive location near the Promenade des Anglais and the long beach. At the hostel, you share rooms with others and that's the charm with this type of accommodation. It provides an opportunity to meet many interesting people.
In my room there were four beds, but there was only one bag in the room. So we would only stay two people in a room for four — plenty of room, I thought. An hour later, two girls came in. Nice! They were from Australia and we quickly got along. Ellie and Kyarna were both older than me and the relationship became sister/brother, they wanted to have me in their company. The first evening, we had dinner together and then some drinks at a bar. What a lovely welcome and what a great start to my adventure! My wonderful roommates would stay in Nice until Thursday, so we spent four days together.
Monaco, Monaco and then Monaco! What a great place! Although I had previously visited the little principality and knew what to expect, I was completely blown away. I absolutely loved the luxurious and upscale environment with the exclusive cars, superyachts, classy buildings and all the well-dressed people (except for a few tourists).
I felt like this is where I was going to live, and just the thought gave me goose bumps all over my body. I had found my home and I was one big smile throughout the stay. It was as if all the tough things I had experienced in recent times were gone; I was in my new favorite place. Right then and there, nothing could make my happiness disappear — I was in my heaven.
Ellie's and Kyarna's adventures would continue and they headed for Croatia. Myself, I stayed in Nice, an exchange student from Sweden who neither understood nor spoke French. The beach became my sanctuary; here I could relax without feeling alone. It felt like all the people at the beach was one big family, nobody was alone here. But the whole time, the thoughts were gnawing in my head. Is it so great to live in Nice? I have no friends here. I don't speak French. What will school be like? Will I cope with all the challenges in my current mental state? The questions were adding up and the only answer I had was "I don't know." It worked for all of them.
What made me return to Sweden was the safety I had at home. Safety in the form of family, friends, language, school system, my perfect apartment and so on. This turned out to be incredibly important factors that I needed more than ever in the reduced mental state I was in. When the decision was made and my flight ticket was booked, the relief was immense. I was able to relax and enjoy every minute of the tropical heat in the magnificent city of Nice.
In order to connect the dots, the exchange semester in Nice was something I had really looked forward to. But in my state, the challenge became too big and I don't think the experience had been worth the effort. To cancel the adventure and go home was the right decision at that time.
Episode 4 – The Dinner
On Monday, September 2, the flight landed at Copenhagen Airport. I was on my way home from Nice. The long-awaited adventure in France only lasted a week, but I was happy with the stay and it felt good to be at home again. On the train from Copenhagen to Falkenberg, I felt ridiculously tanned, the sun had bronzed me more than I'd thought. I thought that I'd make sure to treat myself to at least one holiday trip each year. That's quality of life and if I've learned something during my illness, it's precisely that every moment is worth enjoying. You've only got one life to live.
The car was crowded with my stuff and the music was bumping at the highest volume. My return was a fact, I was heading towards my second home, towards the city that had transformed me from a young guy to an independent adult. It didn't feel bitter at all, even though things hadn't turned out as I'd thought. My energy levels were fully charged after the holiday in Nice and it would be great to meet all the friends again — an entire summer had passed since we'd last seen each other. It was with relief that every minute I was getting closer to my apartment, my safety zone, my home.
When I stepped in through the door I was surprised; I had forgotten how nice and fresh my apartment was. I smiled to myself and thought that this was a top notch pad; here I could realize my dreams of being a decorator. It didn't take many minutes before I was working on changing the apartment around. Furniture was moved around and interior details were replaced. A sound system was purchased and I loved the bass, it was like the cherry on top in my home; but I doubt that the neighbors were equally fond of my new investment. The apartment felt perfect, it was in line with my image. That is, it was exemplary and flawless.
As I ran around the city on various errands, I met some familiar faces. Most of the reactions were in the style of "What the hell, aren't you in Nice?" I had decided to say that the language barrier and the social mismatch down in France led to a drop in my motivation. I stuck to that version, completely flawless, just as everything else was around me.
The first day of school was nice, meeting all the people was fun because most people wondered why I wasn't in France. I used my excuse frequently and nobody saw through it, at least not from what I could notice. Everything went according to plan; I had full control of the situation.
The first to wonder about my presence was Rebecka. We had run into each other earlier that summer, at Stockholm Week in Visby. After confronting me with her questions, I felt even more how right it was to be at home.
I drove the car back to Falkenberg and went back by train towards Kalmar. During the trip, I was chatting a lot with Rebecka on Facebook. I asked a bit jokingly if I could invite her out for dinner and her answer was yes. What the hell was I doing now? I thought and chuckled. The passenger next to me gave me a strange look. I felt incredibly excited about everything that was waiting for me in Kalmar. A new semester, new classmates, socializing with all my friends, working out at Actic and now a dinner with Rebecka. Wow, life was great! Was all this too good to be true?
On September 13, I was in the kitchen cooking dinner. Rebecka texted that she was on her way and I became nervous, my expectations were sky high, as always. Ding-dong – the doorbell rang. I opened and there she was in a beautiful blue dress, smiling warmly. She had arrived and the evening was getting started – everything felt really good. The food was tasty and the vibe was easygoing. At midnight, we rounded off the evening and it was time to say goodbye, I shut the door and sighed from relief. Everything had gone according to plan.
A few minutes later, I felt a huge wave of anxiety washing over me. The feeling was familiar, it was happening again and I couldn't prevent it in any way. The alcohol was still on the table and I drained two cider bottles and two glasses of rosé within a few minutes and mixed it with a large number of Tylenols. I had done it again, a desperate attempt to get rid of the incredible sense of anxiety that washed over me. I called Rebecka and asked her to come back because I realized something serious would happen. She didn't understand and I hung up again to call the forbidden number, 112. An ambulance was on its way. I had unbearable pains in my stomach, I hurried out of the apartment and posted myself by the roadside. But the stomach pains were so strong that I had to lie down on the ground. I screamed out in pain. A spotlight blinded my eyes; I thought it was the ambulance. But it was a bicycle. Fuck, I thought, now there's a stranger here when I'm on the ground screaming. But it was Rebecka, and thank God for that. Shortly thereafter, the ambulance came and they drove me to the emergency room where Rebecka stayed with me the entire time. She was a real heroine! She squeezed my hand hard, while I was mostly dejected and despondent about what had happened. I thought I had climbed a few steps up, but this was a fall flat to the bottom. I would have to fight my way up again.
After having been in the hospital during the first intoxication in May, I was familiar with the routines that took place in the emergency room. I met various people in white clothes, drank carbon and gave a urine sample. It felt like everything went automatically. I didn't feel apparent anxiety or worry inside the hospital; Rebecka was good support and within me I mostly felt anger because I had fallen down from the stairs between happiness and depression. I was admitted to the medical ward and got my own room again. Rebecka remained there until 3 a.m., then she went home to sleep, but I knew my parents were on their way. I fell asleep immediately, but woke up pretty quickly again when a nurse came to take blood samples. Just like the first visit in May, I fell asleep.
My parents arrived and my mood brightened, but for them, I'm sure it felt very hard. They probably couldn't understand how this could happen again. I had shown signs of improvement – everything was going to be fine when I was back in Kalmar. I got an appointment with a psychologist and I felt safe when I left the hospital. Once again, I went to my brothers in Uppsala to rest up.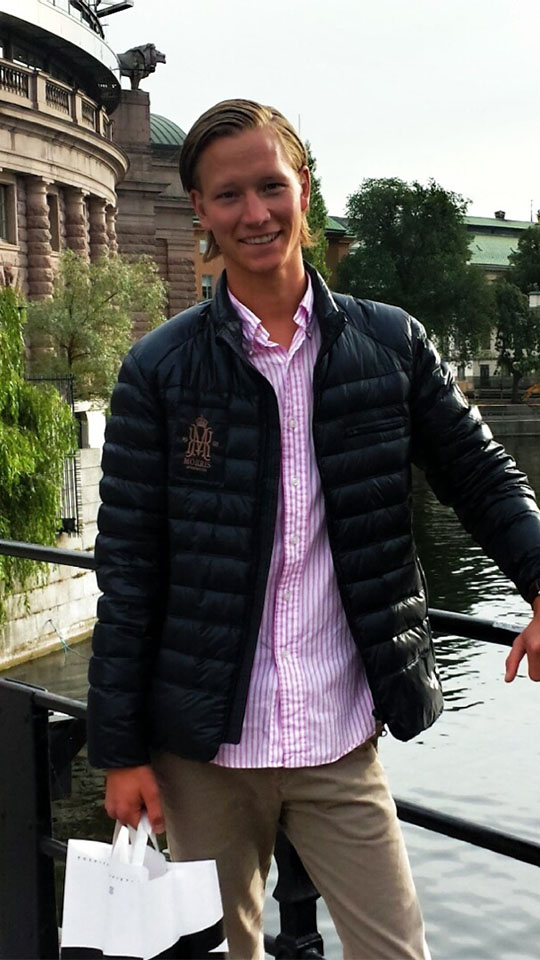 Episode 5 – "Unfortunately, we don't think he'll survive"
Exam week, which meant full days of studying and mood swings from "I know everything now" to "I know nothing." That's how things were going up and down those days. This particular week I spent most of my time with Rebecka, we studied together and it felt like a winning concept. She had studied a lot and had good knowledge, while as usual, I was out at the last minute to learn everything. But like before, it still felt like this exam would be a piece of cake.
Between 9 a.m. and 12 p.m. I was in the exam room. It was a special feeling to sit there, you could almost physically feel the tense atmosphere. The only sound you heard was the pencils that scratched the papers, the deep sighs, the rustling of papers and people blowing their noses. It wasn't the ultimate environment for me. When I was studying at home I liked to play a lot of music in combination with a TV show and an open window to let the sounds of nature in. In other words – I didn't like the silence that was like a blanket over the exam room.
There were four questions to answer and it felt like I wrote what I could; my gut feeling said that I'd probably make the exam and my body listened to it. I put it behind me the moment I left the room.
After the exam, I was going to help Rebecka with her move from the dorm to her new home. Her dorm corridor was filled with box after box and it was considerably more stuff than we had previously expected. Was this really just a one trip with the car? It didn't look like that. But after quite some effort, we managed to push everything inside and the stuff was transported to the new apartment. The cleaning of her dorm room went quickly, everything was fine.
I felt tired and worn out after all the studying during the week and taking the exam. Now only the fun remained; to unpack and decorate the new pad. But it felt like the pile of stuff never got smaller. Every now and then we took a break and had some apples that I'd stolen from the orchards by my apartment. It was nice with a break in the middle of the moving mess.
I had no plan for the evening, even though I've had an exam, which was usually celebrated with going out partying. Rebecka was going to some event, but I was just going to have a quiet evening at home. When it was almost 6 p.m., the apartment was in order and all the moving boxes were unpacked. We had an hour of quality time before put my shoes and coat in order to head towards Stensö. We hugged each other, she thanked me for helping her and said goodbye to the doorway.
I plugged in my headphones and pressed play. "Alive" with Empire of the Sun roared at the highest volume when I rode through a gray and rainy Kalmar out towards my home on idyllic Stensö, a bike ride that takes about ten minutes at regular pace.
When I entered the building, I felt that familiar wave of immense anxiety washing over me, paralyzing my entire body. I hurried into my apartment. There, the anxiety took over completely and I lost control. I desperately located medications and placed them on the red coffee table. I had no alcohol at home, but poured a glass of elderberry juice. I still had my coat and shoes on and the music blared at the highest volume straight into my ears.
The anxiety made me breathe faster, I was out of breath and it felt like I was fainting. I dropped into the couch. The anxiety was now at its peak, it wasn't possible to put words on how it felt. I poured the pills out on the table; they were white and pink. It was a big pile, a pile that I knew could lead me to the help I needed. For some strange reason, I took a picture of the pills and sent to Rebecka and Patrik, my classmate and closest friend at that time.
In pure panic, I grabbed a fist of the first pile and swallowed it with elderberry juice. I coughed and felt discomfort throughout my body, but I continued to swallow pills, hoping the anxiety would stop. But nothing happened – everything was still just as bad. Somewhere within me, I realized that I'd put a lot of pills inside my body. I placed the rest of them in the pocket of my pants and left the apartment.
Both Rebecka and Patrik called several times, but I don't remember the conversations. I was fully focused on getting rid of the incredible anxiety that didn't want to let go of me. I sat down on the bike and started pedaling along the Stensövägen road, a single long straight. I had Rebecka on the phone from time to time, but I couldn't take in anything she said; I was fixed on getting rid of my anxiety. But as the medicine started to work, I became more and more clear-headed. I realized that it was a bad idea to bike into town. So I turned off Stensövägen to continue down to Stensö fishing village, the small cozy harbor where I used to sit and philosophize as the boats docked or sailed out. "Unknown Caller" was constantly calling, but I didn't answer any calls. In the harbor, I parked my bike at the patio of the sailing club and went further down to one of the docks. I sat down and tried to enjoy the tranquility at my favorite place.
I reacted to the sound of sirens but had difficulty distinguishing whether it came from the music that roared in my ears or if it came from outside. The anxiety had settled somewhat when I'd arrived in this peaceful, familiar environment. My sense started to return and I responded immediately when "Unknown Caller" appeared on the display again. It was the police.
Here's the conversation as I remember it:
"Hello?"
"Hey, is this Charlie?"
"Yes, who are you?"
"I'm (garbled) and am calling from the police. A friend of yours has called and said that you're in need of help. What's happened?"
"I don't really know, I'm sitting on a dock in the harbor."
"Which harbor? Are you by Baronen?"
"No, I'm in the Stensö harbor, by the red cottages."
"All right. How are you? Your friend said you were sad?"
"I'm fine. I've felt bad for a while, but right now I'm fine."
"Okay, sometimes life is hard. What are you doing down in the harbor?"
"I'm just sitting here looking at the boats, taking it easy."
"Your friend said you had taken pills? Is this true?"
"Yes, I've swallowed a large amount of medications."
"What kind of medications?"
"Hmm, well … it was … eh … hmm … Ibuprofen and a sedative, Theralene."
"Do you know how much of these medications you've ingested? Do you feel bad?"
"Maybe x number of Theralene and around x number of Ibuprofen."
"Oh, really! Sit down and rest where you are."
"I'm already lying down here on the dock, but everything feels calm."
"A patrol car will be there soon. Just stay where you are."
"I'm heading towards the street now, I can meet it there."
"Does it feel okay to stand up? If not, just stay there and they'll be there."
"I'm standing by the roadside now and hear sirens."
"Okay, thank you and best of luck to you. Everything will be fine."
"Thank you very much. Bye."
The sound of sirens were clearly heard in the otherwise quiet evening. A blue glow flashed like a disco light in the fall darkness. The sound came closer, a bright spotlight blinded me completely and at the same time the blue disco light went out and the sirens were turned off. It was the police driving towards me, and I took a step to the side not to get hit. The police car stopped by the side of the road and a male, muscular officer and a thinner female officer exited the car. They both looked tough at first sight. But as they approached, they looked a little nicer. The male officer was the first one to come up to me.
"Hey Charlie! How are you?"
"Hello, right now I'm fine, but I have a large amount of medications in my body."
"What's happened?"
"I've felt bad for a while, and I had an anxiety attack and tried to alleviate it with the medicine, not especially smart but it was an impulse."
"Should we take you to the emergency room?"
"I don't know, that might be a good idea."
"Yeah, they should take a look at you. Do you want that?"
"Yes, we might as well."
"Let's get in the car."
We walked over to the patrol car and got inside. The atmosphere was relaxed the entire time.
"This is the first time I'm in a police car, and then I haven't done anything."
"Haha, there's a first for everything," said the female officer.
She got behind the wheel and we started driving. I was in the back seat with the male officer next to me.
"It doesn't sound like you're from Kalmar?" said the male officer.
"No, I'm from Falkenberg. I've lived here for a year and a half, I'm studying at Linnaeus University."
"Oh, I see. What are you studying?"
"Tourism Economics. Are you having a quiet evening?"
"Yes, so far it's quiet. But now we're helping you."
"Yeah, maybe not the most exciting task you've ever had. This is where I live." I pointed to my building.
"You've really ended up in the nice parts of Kalmar, you must've been lucky when you got your apartment."
"Yes, I like it here on Stensö."
"Illegal racing by the IKEA parking lot." There was a voice from the police radio.
"Wow, is that the most exciting thing happening tonight?"
"Haha, yeah, Kalmar is generally a quiet city."
"I can imagine that."
"How long have you been feeling bad?"
"Since spring, it's escalated during the summer."
"Okay, anything in particular that's happened?"
"I lost a close friend and a long relationship ended."
"Then I understand that you're having a tough time, but you're young, you have your whole life in front of you."
The police car rolled up to the emergency room and parked outside the entrance. It had been about 20 minutes from the time I'd left the apartment.
"Charlie, I'm going inside to ask if they should admit you right away or if you should wait in the waiting room," said the female officer.
"Okay."
"What medication was it and how much? I'll tell the ER staff," the female officer asked before she left the car.
"About x number of Ibuprofen and x number of Theralene."
"Okay, I'll be right back."
The female officer left the car and entered the emergency room. I remained with the male officer. The atmosphere was still calm and I felt safe.
"I hope it will clear up for you so you don't have to take these medications again. You seem to be a really cool guy and I'm sure everything will go well for you. We all have tough periods, but they only make us stronger."
"Yes, but it's hard to constantly live in the future. Have to try to get through this step by step. I'm at the bottom and it can only get better."
"What do you want to do for a living?"
"I want to be independently wealthy."
"Then we won't be colleagues, ha-ha."
"No, it's probably the wrong profession for that, ha-ha."
The atmosphere was still calm in the police car when the female officer returned and opened my door.
"They want you inside right away for examination."
"I guess we'll go inside, then," I replied.
"We'll come with you," said the male officer.
We went into the emergency room and were immediately shown into a long corridor where we were met by three women in white clothes.
"Hello Charlie, I'm (garbled) and I'm a nurse. Please lie down on the stretcher right there."
"Sure, I'll just remove my coat."
I sat down on the stretcher and slowly took off my coat and started folding it up, but then it was pulled away from me and the other two women grabbed my legs and my upper body so that I ended up lying down on the stretcher. I thought they were rushing, but I didn't feel anything in my body.
It was like a scene in a movie. They turned the stretcher around and started rolling me forward. On my right side I could see into a room with a whole team of white-clad people who were just waiting to do their job. My stretcher passed that room, they were apparently not waiting for me. But when we came around the corner, we still entered the same room, although through another doorway. The team was meant for me. It felt weird that all these people were waiting for me, I didn't feel bad? I mostly felt tired. As soon as the stretcher was in place, all the white-clad people came up, they started poking me here and there and I lost the perception of what was going on around me. The cops were standing by my side, looking at what was going on.
A stretcher was rolled up from the left. I saw an older woman lying on it. I'm not the only patient in the room, I thought. The two cops shook my hand and wished me good luck, I replied something unintelligible. I was no longer fully aware of what was going on around me. I was tired, really tired.
A doctor later told me the following:
"The pulse dropped to 32 and then rushed up to 130. In this condition, you weren't contactable, but reacted to pain. When we tested your sensation, you reacted to pain, but you couldn't identify where the pain came from. You were incredibly anxious; you climbed down from the stretcher and fell down on the floor. Patrik came into the room to calm you down. Due to your critical condition and inability to oxygenate, you were transferred to the intensive care unit for full monitoring. You were put on a respirator to keep your body alive. Your condition was very severe and we didn't know if you would survive."
When the hospital called my mother, she received the following message:
"We've moved Charlie from the ER to intensive care because of his critical condition and we don't believe he'll survive."
I became terribly nauseous and tried to turn to the side to vomit, but I couldn't get anywhere; I was stuck. It was impossible to move; there were hoses everywhere. I drifted back into unconsciousness.
Two big hands squeezed my left hand hard, it felt warm. I tried to open my eyes, but I barely could. But I still saw that it was Dad sitting there. I closed my eyes again. Dad talked to me but I couldn't respond, I just tried to nod my head. He told me who came in or left the room where I was lying. All I felt was that I was stuck in all the cords and hoses that were attached to my body and inserted into my arms. I'd never before experienced a similar fatigue and I was constantly tossing and turning, trying to find a good position. But it was difficult, since I was stuck.
Unknown Voice 1: "Can I talk to him here?"
Unknown Voice 2: "Yes, it's okay. The other patients are sedated."
Unknown Voice 1: "Hello Charlie."
I heard how the unknown voice started asking me questions. I didn't understand what she was talking about and I didn't answer.
I noticed that the woman left the room and my family came back in and sat down next to me. My thoughts were unclear; it was difficult to discern what was dream or reality. The only thing I knew for sure was that my family was there and it provided a security where I was lying with all the hoses and cords, feeling completely helpless.
A nurse came up to me and announced that there was an ambulance on its way to take me to the psychiatric emergency room. But first all hoses and cords must be disconnected, which proved to be very painful. When they took them out one by one, I began to feel more mobile again. But when the hose to the stomach was to be disconnected, it was very painful. It felt like someone put their arm down my throat and down in my stomach, stirring around as if my stomach were a soup pot boiling in a restaurant kitchen. The discomfort made me want to throw up. But they managed to pull the whole tube out without me vomiting on anyone. Then, they pulled out the tube that was inside my penis. I won't even try to describe the pain when they pulled it out. I screamed, it hurt and we took a break and then they continued until the tube was completely removed. What relief!
When all the tubes and hoses were gone, two paramedics arrived with a stretcher. I got a pile of hospital clothes to put on. I thought a little about where my own clothes and valuables had ended up, but there wasn't time to think more about it at that moment. I crawled over to the ambulance stretcher. As soon as I stood up I saw all the relatives who were sitting next to the other patients in the room. I was uncomfortable. This room was about life or death. I remember that the eyes of the relatives were empty. They still didn't know if they were going to get their loved ones back alive.
But I had pulled through, I was still alive. I had beat death. It's an image I'll always carry with me. To be a winner in a room where the loser ends up dead.
When I was sitting on the stretcher, several of the staff came up to me. They showered me with well-wishes and said a lot of nice things, such as: "You're a young, handsome guy, the future is yours. I wish you good luck and really hope that you'll come out of this slump." The paramedics rolled out the stretcher, the only thing I saw was the white ceiling and all the lights and I felt nauseous.
After five minutes in the ambulance, we arrived at the psychiatric emergency room. I got a room at the end of the corridor and I had to try to walk to the bed on my own. I failed and fell down into the bed that was on the left side of the room. Mom and one of my brothers were already there. They tried to talk to me, but I don't think I responded. I was hungry and tired. They got me a pizza, I ate it and fell asleep right away.
Two nurses woke me up. I would be moved from the psychiatric emergency room to the psychiatric intensive care unit. They helped me walk through the corridors. I got my own room, it felt nice; I went to bed and fell asleep right away.
The psychiatrist had put me under forced care. I wasn't allowed to leave the unit. If I did, the cops would pick me up and take me back to the hospital. I stayed at the unit for two weeks, and the same day as I was discharged, I moved to Uppsala.
My thoughts then, when I left Kalmar, was that my whole life had been shattered. I had cheated death too many times now, I really shouldn't be sitting there on the flight to Arlanda. The whole situation was surreal.
Life at the Psych Ward
When I opened my eyes, there was a bright light in the room, the sun radiated through the window and lit up all the barren whiteness. I closed my eyes and thought about where I was and how I had ended up there. But quite quickly I remembered that I'd been admitted to the psychiatric intensive care unit at the hospital in Kalmar. I had been transferred from the ER, where I had been treated in a respirator, to the unit where I would now be treated for my so-called suicide attempt. Swallowing the amount of pills I had done on Saturday night fulfilled all the requirements to fall under the concept of suicide attempt. For me, who loved life, the words sounded bad when they talked to me about suicide and various indicators for how suicidal I was. It felt like a blow to the face. I, Charlie Eriksson, had always loved life and had done the best of most situations to enjoy the moment. I could sit by the sea for hours and watch the waves roll towards the shore, lie on the couch in the apartment and look at the stars in the sky or just light a candle and listen to my calm playlist on Spotify. Suicide was actually completely unthinkable for me and not something that I had come into contact with before. In my family, most people become very old and life is something we look at brightly. And yet I had done this!
I didn't see any other people in the room. Nice, this time I didn't have to share a room with any other patient like I'd been forced to do during parts of my stay at the psychiatric intensive care unit in Halmstad. Now I had my own room, a place where I could be alone and have the opportunity for peace and quiet.
There was a knock on the door and a man in scrubs came in, introduced himself and told me where I was. He offered me breakfast, which was served in the common lounge which was also a dining room. Everything in the ward felt sterile, barren and simple that first day, something that I would experience differently as the minutes and the hours turned into days.
My body was terribly tired after all the treatment, but I still chose to get out of bed. When I opened the door and went out into the corridor, an uncomfortable feeling crept up on me. For me, it wasn't obvious how to behave in a psychiatric ward. Was there right and wrong in here? Who were the other patients? Would they judge me after my appearance? Could I talk to them or was it dangerous for me to get acquainted with "the others"? Thousands of questions spun around in my head during the walk from my room to the common area, a distance of about thirty feet. It took about five seconds.
Life feels very different in hospitals; everything is timeless in some way. I knew that I'd been at the hospital since Saturday night, but I didn't really have a conception of the time that had passed. Everything was like a black hole; I just remembered that I went into the ER in the company of two police officers and ended up in a room with hospital staff. And then I woke up that morning at the psychiatric intensive care unit.
Two other patients were sitting at the dining table. One who could've been my brother and another who could've been my father. We said hi to other, then it became quiet, very quiet. I was wondering who these two people were and why they had ended up here. So we were three in a unit that has room for seven patients, which was the result of few admitted. In other words, plenty of space and peace and quiet.
After breakfast, I returned to my room, my sanctuary. It was a bit like a student apartment, a separate room with bathroom but shared "kitchen".
My family came to visit during the day and the mood in the visitation room was subdued, I felt how this event had left deep scars in my family members. And I hadn't yet realized the scope of what had happened. My thoughts mostly revolved around how serious it could've been, since I already felt physically recovered. Was it true that I'd almost died? Could it be that my internal organs had been damaged by all the medication? The only thing that clearly showed that I'd been in a critical condition was the marks I had from all the tubes and needles and ECG patches that had been attached to my torso. Apart from that, I had no visible injuries, I just smelled a little bad and my hair was a mess.
Many people probably have their own idea about life at the psych ward, what kind of people there are, how the environment looks and the atmosphere between the patients. If you were to believe in what you see in the movies, everyone would be terrified of being admitted to the psych ward. There are constantly murders, it's haunted, the patients are violent and the environment is abominable.
Now, due to my experiences, I've created my own opinion of life in the psych ward and it doesn't match the picture painted by the world of cinema. I saw no murders being committed, I didn't notice any ghosts or demons, I was never attacked by another patient, and the environment wasn't terrible at all. It wasn't exactly pleasant, just sterile like other hospital environments. In my room there was a bed, a table with chair, a bathroom with toilet and shower. There were no cords, nothing on the walls, no shower hose, no sharp objects, no interior details and the bedding was of the simplest kind.
All for the safety of the patients. I was in an intensive care unit, and patients were only housed there during the most severe phase. Since I'd been involuntarily committed, I had no choice but to stay there and accept the help that was offered. But it was nice that I didn't have the opportunity to make my own decisions in the state I was in.
The image I had of myself was that I was feeling "good"; despite the circumstances I didn't feel sick, but of course I understood that everything wasn't okay considering what had happened. This conflict was eating away at me during my time in the ward. Some patients even thought I was part of the staff because I looked healthy and also chose to wear my personal clothes. The doctors saw me as seriously ill, myself, I thought I was healthy. How could decisions be made in that situation? Who had the best idea, the doctors or myself? Looking back, I'm happy that the doctors made the decisions. I was sick!
At the intensive care unit, it wasn't allowed to have any personal belongings in the room except for a change of clothes. The cell phone and my other valuables were locked in the safe that was matched to my room number. Passing the time without a cell phone is a strange experience. Think about how long you can manage to put it away without checking if there have been any text messages, missed calls or if something interesting has been published in the social media flows. What was I supposed to do now? My entire life was in my cell phone. I was unable to communicate with my acquaintances outside the walls of the psych ward and I had to put up with myself and my own thoughts. Time went by slowly, very slowly.
An ordinary day meant getting up around 7 a.m., breakfast, medication and then browse through the morning papers while more or less watching the morning news. We only had six channels on the TV. After my two weeks at the psychiatric intensive care unit, I can tell you that these channels aren't great in the daytime.
To be treated in a locked ward, where you spend every day together with other patients inside a limited space with locked doors, is quite a special experience. The first day, I felt immense shame for being in this ward, I thought it was both embarrassing and uncomfortable to be in these premises. I had no idea how to behave towards the other patients. Normally, I'm an outgoing and sociable guy who likes to meet new people. But could I really talk about anything with anyone at any time in the psych ward? Were the patients supposed to sit completely quiet and be ashamed of their existence or were they expected to talk to other patients and try to create social connections despite the heavy cloud of shame that enveloped the ward? I chose to talk to the others and it turned out to be a good option, they were very nice and the atmosphere eased up, the ice was broken.
The days passed, patients were admitted and sent home, the only thing that was the same was myself. I had been here the longest time despite the fact that I saw myself as the healthiest person in the ward. It was the one who had been admitted by court order and I was the one with the highest degree of supervision. I was apparently a danger to myself and therefore I wasn't allowed to go outside on my own or have any perks in my room. I wasn't even allowed to have headphones. Lying in a bed in a sterile room without music can break you down.
I've never been particularly interested in cooking, probably because I don't eat that much. I don't like most common foods like milk, cheese and fish. I had a conversation with my orderly and special diet was ordered. On my tray there was a note with the text "Special diet: no cheese, no sauce, no fish. No mixing of foods." The result was that I was often served sausage with mashed potatoes.
My diagnosis was depression and panic disorder, that is, I was still clear-headed and aware of my actions (except when I was having a panic attack). I felt sane compared to the patients who had more advanced diagnoses. But living with different people in the ward provided me with interesting perspectives, both in a small and a larger sense.
The most important lesson I carry with me from that time is to never compare myself to others. We are all human beings and of equal worth, BUT we also have different backgrounds and different conditions for being able to do things in life. It's about finding your thing and take advantage of it. Perhaps my thing is to be the face of mental illness, or I will eventually become a marketer, salesman or veterinarian. No matter what my business card says, I will carry with me the feeling that I'm doing what I'm best at. No one can take that away from me. I know who I am and I make the best of my circumstances.
A person whom I got along well with at the psych ward made my time there a "fun" time based on the circumstances, although it was a person I would never have been attracted to in my "normal" life. But I'm done judging people in advance, I'm done with being prejudiced. This is one of the reasons why I started the project Never Alone. I want to spread my words to increase knowledge, give my perspective on mental illness and contribute to reducing prejudices.
On Friday, October 11, I was discharged from the psychiatric intensive care unit. The same day, I left Kalmar for my future home town of Uppsala. It felt very sad the last morning at the ward, after two weeks at a locked unit, I'd gotten close to both staff and patients. We'd become like a family where everyone supported each other to achieve positive results, that is, discharge for the patients and a good working day for the staff. I remember the reactions on my discharge, because one of the other patients asked every day if I was going home or if I was just going on leave. The last thing my "closest friend" said when I was leaving was:
"Charlie, I'm speaking from the heart, I really hope everything will be okay now. You're a great young guy and I wish you the best of luck with whatever you choose to do. Now, leave without turning around and looking at me, otherwise I'll start crying. You've truly spread joy at this ward and I'm glad I had the privilege of meeting you even if it was in a sad context. Thanks for everything."
Another patient said:
"Charlie, the next time I see you, it'll probably be on TV or in the newspaper when you've changed the world with all your knowledge" and another one said "Go save the world economy, our dear economist." Some words I remember very well: "It's been nice to have you here, but never come back."
When I opened the front door and took a step outside I started humming on a song that I would never otherwise listen to, it was "Looking for Freedom" by David Hasselhoff. "I've been looking for freedom since I left my hometown… la, la, la, la." The moment I sat down on my bike to pedal home, the tears began to flow down my cheeks. I hadn't only said goodbye to a psychiatric department, it felt like I'd said goodbye to a new family. I will never forget all the wonderful people who made my time at the ward a relatively positive memory. Thank you to the psychiatric intensive care unit in Kalmar, you are heroes in my eyes.